Key Common Core Events on Twitter<br> from September 2013 to February 2014
This section provides summaries and sample tweets from key events that spiked Twitter activity related to the Common Core in the first time period of our analysis. In the graph below, click on the red dots (•) to learn more about the events that occurred on those days and see sample tweets.
Volume of Tweets over time
September 2013 - February 2014
Common Core Meeting Disrupted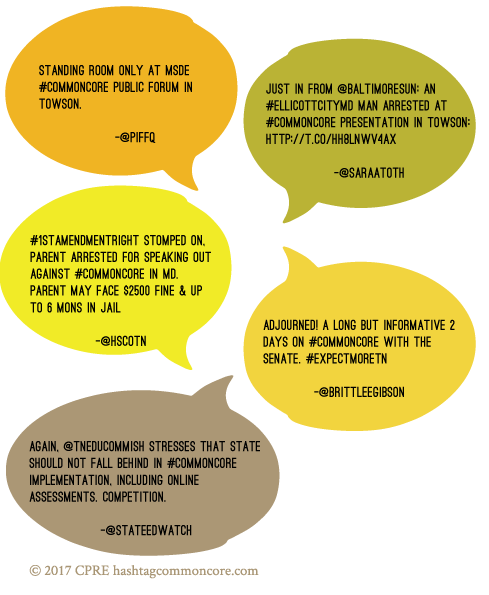 September 20, 2013
On September 20, 2013, there were 1,794 tweets, the bulk of which were dedicated to two Common Core issues. First, a Maryland parent disrupted a Common Core Board meeting and was subsequently arrested, setting off a flurry of Twitter activity regarding the rights of citizens to protest in public venues. Second, Tennessee legislators completed a two-day hearing on the progress and implementation of the Common Core. The terms "arrest" and "TN" are both found in a substantial number of tweets, helping to reveal the day's focus.
Charges Dropped Against Parent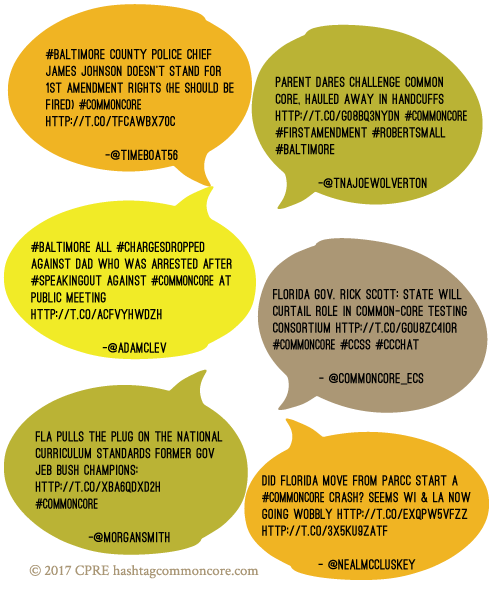 September 24, 2013
Carrying over from the event on September 20, the spike in activity on September 24, 2013, was again tied to the Maryland parent's arrest. Four days after being detained during a Common Core board meeting, the charges against the disruptive parent were dropped, generating a more significant spike than the original event. Almost 25% of the 2,218 total tweets specifically addressed the arrest or charges, while another 6% were focused on Governor Scott's decision to withdraw Florida from the Partnership for Assessment of Readiness for College and Careers (PARCC) Assessment Consortium.
#Baltimore County Police Chief James Johnson Doesn't Stand For 1st Amendment Rights (he should be fired) #CommonCore http://t.co/TFcAwBX70c (@timeboat56)
Parent Dares Challenge Common Core, Hauled Away in Handcuffs http://t.co/g08BQ3NydN #commoncore #firstamendment #robertsmall #baltimore (@tnajoewolverton)
#Baltimore ALL #ChargesDropped Against Dad Who Was Arrested After #SpeakingOut Against #CommonCore at Public Meeting http://t.co/acFVYhWdzh (adamclev)
Florida Gov. Rick Scott: State Will Curtail Role in Common-Core Testing Consortium http://t.co/gou8zC4IoR #commoncore #ccss #ccchat (commoncore_ecs)
Fla pulls the plug on the national curriculum standards former Gov Jeb Bush champions: http://t.co/Xba6qDXD2H #commoncore (@morgansmith)
Did Florida move from PARCC start a #CommonCore crash? Seems WI & LA now going wobbly http://t.co/exqPw5VFzZ http://t.co/3X5KU9zAtF (@nealmccluskey)
Arne Duncan vs. Suburban Moms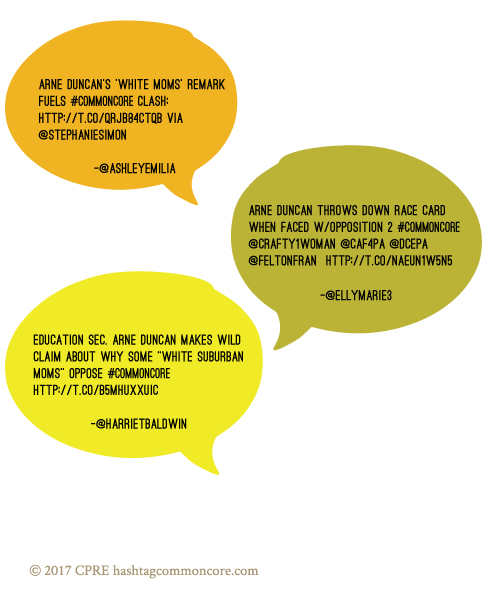 November 17, 2013
In a November 17, 2013 speech to state school superintendents, then U.S. Secretary of Education Arne Duncan commented that it was "fascinating" that some of the opposition to the Common Core was coming from "white suburban moms who — all of a sudden — their child isn't as brilliant as they thought they were, and their school isn't quite as good as they thought it was." Duncan's comment made national news and sparked outrage amongst the anti-Common Core community, initiating a near 50% increase in activity from two days prior - jumping from 1,617 to 3,174 total tweets.
Arne Duncan's 'White Moms' Remark Fuels #CommonCore Clash: http://t.co/qRJb84CtQb via @StephanieSimon (@ashleyemilia)
Arne Duncan throws down race card when faced w/opposition 2 #CommonCore @crafty1woman @CAF4PA @dcepa @FeltonFran http://t.co/NAeuN1W5n5 (ellymarie3)
Education Sec. Arne Duncan Makes Wild Claim About Why Some "White Suburban Moms" Oppose #CommonCore http://t.co/B5mHUxxUIc (@HarrietBaldwin)
Common Core Teaches that Obama is the Messiah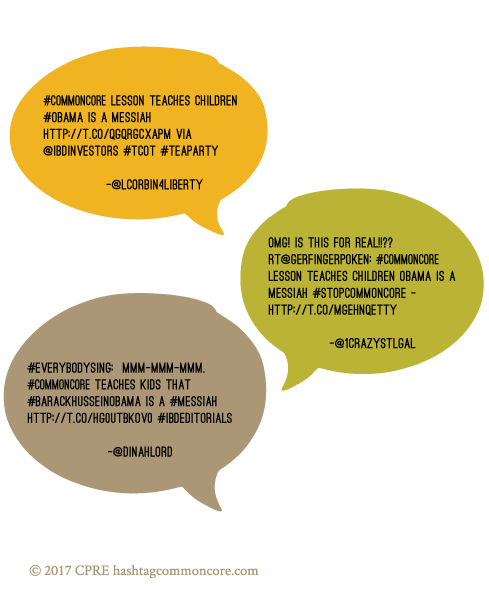 December 10, 2013
On December 10, 2013, the bulk of the 2,040 tweets we collected were related to an editorial in Investor's Business Daily, an on-line conservative business-oriented website. The editorial described an English language arts lesson for third thru fifth graders that was developed based on a biography of President Obama. ("Barack Obama: Son of Promise, Child of Hope," by Nikki Grimes.) The editorial, titled "Common Core Lesson Teaches Children Obama Is A Messiah" stated that Grimes "paints the 44th president as nothing short of a messianic figure." In an example of how a vivid metaphor can move and morph through Twitter, fully 81% of the tweets on December 10 referenced this arcane story. Interestingly, the story maintained its intensity into the following day, generating a similar number of tweets (2,029).
#CommonCore Lesson Teaches Children #Obama Is A Messiah http://t.co/qgqRgCxapm via @IBDinvestors #tcot #teaparty (@LCorbin4Liberty)
OMG! IS THIS FOR REAL!!?? RT@gerfingerpoken: #CommonCore Lesson Teaches Children Obama Is A Messiah #stopcommoncore - http://t.co/MGEHnQETTy (@1crazystlgal)
#EverybodySing: Mmm-mmm-mmm. #CommonCore Teaches kids that #BarackHusseinObama Is A #Messiah http://t.co/HG0uTbkOv0 #IBDEditorials (@DinahLord)
Gates Op-Ed Spurs CCSS Debate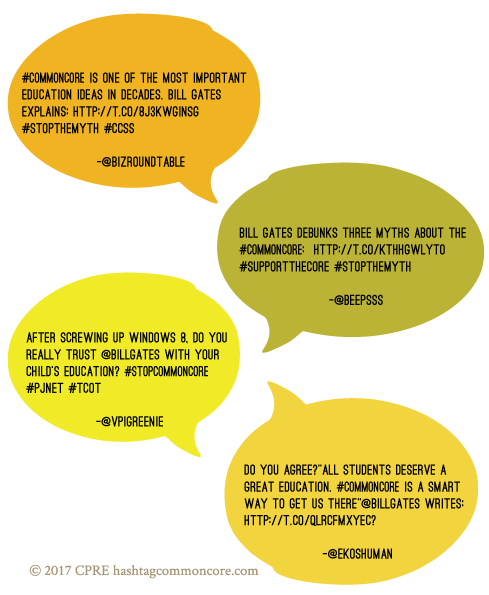 February 12, 2014
The mini spike of 2,317 tweets on February 12, 2014 was largely a reaction to an op-ed written by Bill Gates in USA Today entitled "Commend Common Core." His editorial set out to explain why "Common Core is among the most important education ideas in years" by dispelling what Gates saw as three myths about the standards: 1) that they weren't created in a public way, 2) that they would increase testing, and 3) that they would limit teacher flexibility. Gates closed his piece by saying, "Americans … want schools to prepare children to become good citizens and members of a prosperous American economy. The Common Core standards were carefully conceived with these two goals in mind. It would be a shame if myths and misunderstandings got in the way."
#commoncore is one of the most important education ideas in decades. Bill Gates explains: http://t.co/8j3KWGiNSG #StopTheMyth #CCSS (@bizroundtable)
Bill Gates debunks three myths about the #commoncore: http://t.co/ktHhgwlYTO #SupportTheCore #StopTheMyth (@beepsss)
After screwing up Windows 8, do you really trust @BillGates with your child's education? #StopCommonCore #PJNET #tcot (@vpigreenie)
Do you agree?"All students deserve a great education. #CommonCore is a smart way to get us there"@BillGates writes: http://t.co/qlRCFMxyEc? (@ekoshuman)
Teacher's Union Calls for Course Correction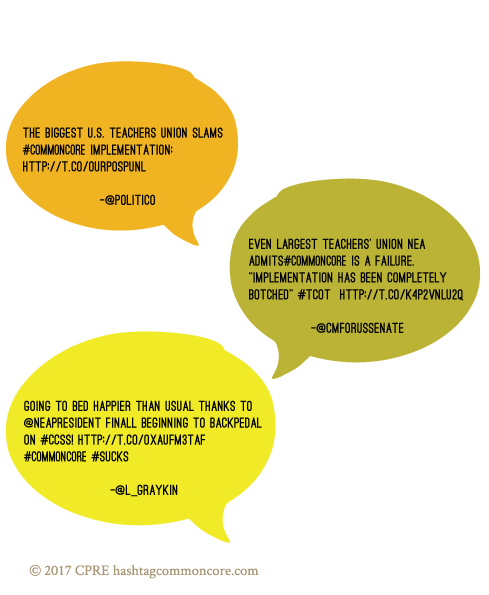 February 20, 2014
On February 20, 2014 Dennis Van Roekel, the president of the National Education Association (NEA), the country's largest teachers union, wrote a letter to his 3 million members calling for a "course correction" of the Common Core. The teacher unions had been largely supportive of the standards up to this point, but his public chastising signaled the growing disquiet about the implementation of the state standards, which Van Roekel called "completely botched" in "far too many states." The letter generated a swell of 2,443 tweets.
The biggest U.S. teachers union slams #CommonCore implementation: http://t.co/OURpoSPuNl (@politico)
Even largest teachers' union NEA admits #CommonCore is a failure. "implementation has been completely botched" #tcot http://t.co/K4P2vnLU2Q (@Cmforussenate)
Going to bed happier than usual thanks to @NEAPresident [finally] beginning to backpedal on #CCSS! http://t.co/OXAufM3TAf #commoncore #sucks (@l_graykin)